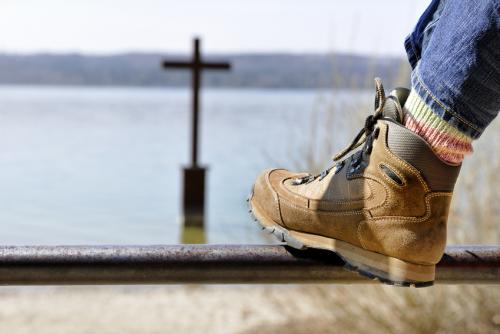 The cares of the day must not let us forget about the spiritual. For many, this is the most important aspect of life. Pilgrimages to sacred sites like Lourdes, Santiago de Compostella, Fatima or Rome help to reinforce or find faith.
Since the very beginning, the Warsaw's Cortina Travel tour operator has worked together with many travel agents and parishes to organise pilgrimage trips and tours to sacred places in Europe (Italy including Sicily and Sardinia, Spain, France, Portugal, Malta, Bosnia and Herzegovina).
We have gained experience arranging group tours to numerous beatification and canonisation ceremonies, as well as the celebrations of the Jubilee Year of 2000. We have managed pilgrimages of Radio Maryja in the 1990s and assisted the faithful going to Rome in 2005, the year when Pope John Paul II passed away, and in 2011, the year of Karol Wojtyła's beatification and then his canonisation in 2014.
For many, the whole life is a pilgrimage and all the faithful should go to Italy, if they only could. There are sites offering a mystical experience, like San Giovanni Rotondo connected with the fascinating figure of Padre Pio, Assisi where Saint Francis lived and worked and, last but not least, Rome. After all, Rome with its tombs of the Apostles is the most visited sacred site. Tours along Marian Devotion sites or pilgrimages to the European Sanctuaries of Virgin Mary – Fatima, Lourdes, La Salette are also very important. Recently, a popular destination for the faithful is Medjugorje in Bosnia and Herzegovina, which has witnessed a series of world-famous apparitions of Our Lady since 1980s. We take pilgrims to these and many other sacred sites, so we are aware the specific nature of such trips and we know the appropriate tourist facilities. We work with private clients, companies, travel agents specialising in pilgrimages and, first of all, parishes wanting to organise a pilgrimage for their congregations. We offer assistance in organising the whole trip or arranging parts of it.
What we provide for pilgrims:
Assistance in designing new, interesting programmes combining the idea of a pilgrimage with sightseeing and relax. We always tailor them to the specific needs, expectations, requirements and constraints of a client.
Mass intention requests
Accommodation along the religious routes in Italy, Spain, France, Portugal, Malta, Bosnia and Herzegovina, and in transit countries. Three-star hotels or above, special price deals for groups
Reservations in local restaurants
Plane tickets with special group airfare, ferry connections in Italy and to/from Italy
Renting of comfortable coaches and minibuses form proven carriers in Poland and abroad
Tour guides, entrance tickets