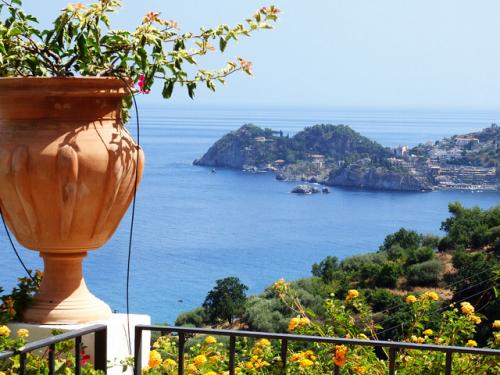 Sicily,the garden of the Mediterranean, is located in the heart of the Mediterranean sea.It's a unique place full of art and archaeology, history , folklore and breathtaking scenery.During our trip we will discover Etna, the highest active volcano in Europe,charming Taormina,fascinating Aeolian Islands, historic Palermo , medieval Monreale and mysterious villages connectedto film Godfather.This tour provides an unforgettable encounter with the island's long history and culture.Come and be fascinated!
1 DAY – Warsaw- Catania
Meeting with the tour leader at the airport of F. Chopin in Warsaw. At 13:25 departure by Alitalia flight to Catania (via Rome) , arrival in Catania at 18:00 and transfer to hotel. Dinner and overnight in the hotel in the area of Taormina/Messina.
2 DAY - ETNA - TAORMINA
Departure to Etna the highest active volcano in Europe. We will reach the "Crateri Silvestri", small volcanic cones now inactive, surrounded by ancient lava flows.* Then we will proceed to Taormina, charming town offering a lovely panorama of the Ionic Sea and Etna. We will visit Taormina's fascinating Greek theatre, and then we will have free time for a nice walk among the picturesque typical narrow streets and go shopping and looking around the local handycraft (coral jewels, precious laces, ceramics, sweets etc). **
Back to hotel, dinner.
*It is possible to explore Etna by 4-wheel drive vehicle ( jeep tour) . We will see the Etna landscapes and wildness, endemic flora and geological features explaining the surrounding fragile environment. Having care of it, we'll take you following off-road itineraries through Etna's lava fields always driving on tracks, exploring caves, and walking to reach the "Valle del Bove" Caldera's rim, immense theatre of some major last eruptions.
** After visit in Taormina we have a chance to visit Savoca , the film Godfather's Village. At the beginning of the 70s Coppola was looking for a suitable place to shoot scenes that played out according to the book in the postwar Corleone. The contemporary Corleone, extended and modernized was nothing like the image shown in the novel by Mario Puzo. Coppola decided to look for a more suitable place - Savoca.Through Hollywood magic, the quaiet town of Savoca became the filming location for some scenes in the movie. Now Savoca is more popular than Corleone village (near Palermo).
3 DAY - AEOLIAN ISLANDS ( LIPARI AND VULCANO ISLAND)
Departure to Lipari and Vulcano, two important islands in the Aeolian Archipelago (UNESCO World Heritage Site). From Milazzo we will take motorboat to join Lipari island. Upon arrival the walking tour of the Citadel or Acropolis with some archaeological remains. Here we will visit the Archaelogical Museum (Classic section) and we will enjoy a stroll along the main street Corso Vittorio Emauele. Later departure to Vulcano. It is separated from Lipari by a sea channel just 1.6 kilometers wide, itself known as Bocche di Vulcano. Legend
states it was here Efesto, the God of fire, used to have his hideaway. Back to Milazzo port . Dinner and overnight in hotel in Palermo or in surroundings.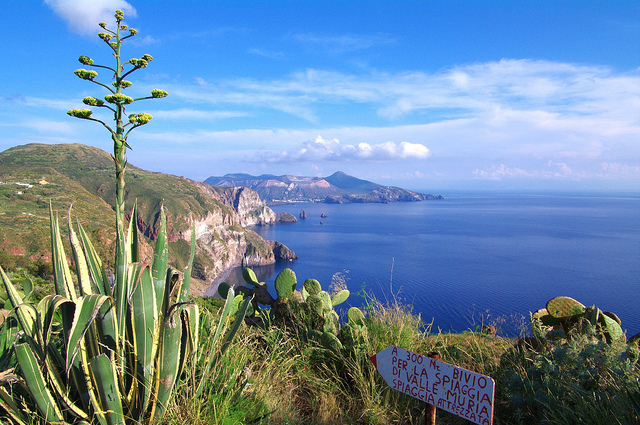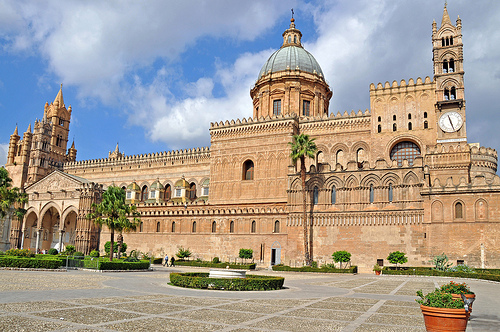 4 DAY PALERMO – MONREALE
The morning will be spent visiting the capital of Sicily Palermo, one of the richest towns in the island for its history and art. We will visit the wonderful Arab- Norman Cathedral, the astonishing Martorana Church and the amazing Cappella Palatina mirable example from an historical and an artistic point of view, of how different cultures, religions and way of thinking apparently incompatible can coexist. Continuing our walk we will admire the debated fountain in Pretoria Square, situated in the ancient Kalsa area and adorned with XVI century sculptures. We will proceed to Monreale to visit its huge Norman Cathedral, proclaimed the Eight Wonder of the World, and its splendid Cloister in Arab-Norman style: admirable masterpiece of art, sculpture, and semi-precious stones marquetry.* Back to hotel, dinner
* We have a chance to visit Corleone,city of churches and birthplace of the Godfather ,Vito Andolini. Village Corleone is full of churches,
typical narrow Sicilian-Arab streets, castles, enormous corn fields...
5 DAY Palermo-Warsaw
Transfer to Palermo Airport. At 08:00 departure to Warsaw (via Rome) .
Arrival in Warsaw at 12:25 . The end of services